How to build and automate Social Media Monitoring with free dashboard
A typical small business owner has few digital properties and it is a good assumption for anyone with a little bit of social presence.
Digital properties
2 websites
2 twitter accounts
1 facebook fan page
2 blogs
Plus there are so many other things that go into maintaining an online presence.
Every smart business owner would like to stay on top of all the metrics that represent the "overall online presence"
So what are the metrics I would like to monitor?
2 websites

Track visitor/pageviews for 2 different Google analytics profiles

2 Twitter accounts

Track follower count, number of tweets etc

1 Facebook page

Track Shares, followers, likes, comments etc

2 Blogs

Track RSS subscriber counts, circulation etc
So there are atleast 20 different Key performance indicators (KPI) that I need to monitor atleast on a weekly basis (if not daily).
I also monitor few other metrics related to my competition but the gist of the dashboard is to give me a "Birds-Eye-View" of my social presence and remind me "How pathetic my marketing efforts are".
Here is how my dashboard looks like. Nothing fancy, just bare metrics in simple table structure.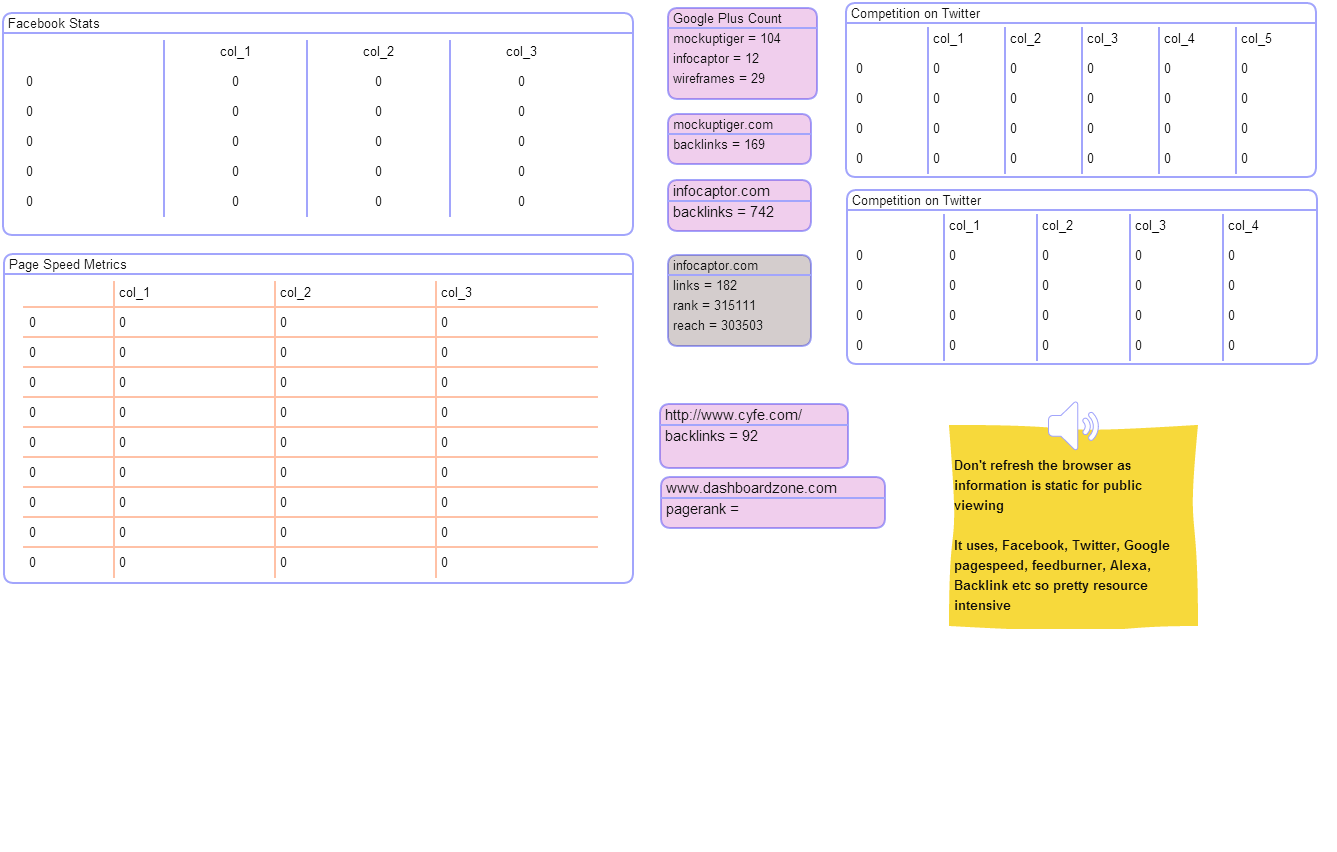 Just like my dashboard, anyone can build a similar dashboard by creating a free account at https://my.infocaptor.com
The dashboard service is absolutely free for everyone and you can track lot of different social media metrics along with information from your internal databases.
Here is a shortlist of things that you can easily track
+ Google Spreadsheet
+ Google Analytics
+ Google Pagespeed
+ Google Plus
+ Twitter
+ Facebook
+ Pagerank
+ Backlinks
+ Github
+ Alexa
+ Feedburner
If you really value your time, go build a dashhboard for yourself, set it on a BIG screen TV or a separate monitor and get back to business.
Here is the link to my LIVE Social Media Dashboard (Note how the dashboard is also tracking the competitors social activity)